Hi Everyone, here is your Long Beach Market Stats for May 2022. As of last month, I began to call this newsletter The Best Beach Homes Report, after my website name, The Best Beach Homes.
Opening Thoughts
The market has shifted!
But as we look out the window and see the June Gloom, all in the real estate market is not as gloomy as the national and local press may have you feeling.
Yes, the market has changed, and yes, it is due to the significant higher interest rates.
But, do you want to hear the really great news?
I have 3 points to share on that!
(1) Even if 90% of the buyers decided to sit this one out, wait and see what the market does, or feels priced out of the market, we happen to live in a very large metropolitan area – Southern California – which encompasses Los Angeles County (the most populous county in the United States, at a population of over 9.8 million inhabitants), and Orange County (with a population of over 3.1 million), and then there are Riverside and San Bernardino Counties not too far away. So let's say 90% of buyers decide to stop looking and shopping for homes and making offers. Which may be what is happening at this moment as they take a wait and see approach. Those 10% of homebuyers are still out, and I'm still seeing them, at my open houses, and at private showings. So don't lose hope here. The buyer demand is still there.
(2) Inventory numbers are still at historic lows. While inventory is indeed climbing, with more homes coming on the market, and being more slowly absorbed by the demand, we are still below average inventory levels, so those needing to buy a home still have fewer homes to choose from and may choose yours if you are selling.
(3) And finally – here's the best news – with a calmer market now, and less frenzy, it's actually better for everyone. Because most sellers are also buyers, and as a buyer, having a more balanced, normalized market give you more time to consider your purchase, do your due diligence, and have a chance to get the home you want, rather than almost no chance in extreme over-the-top bidding wars.
So those are my upfront thoughts from my front-line experiences in the past month. Let's go to the charts and numbers to see what they are telling us:
Charts and numbers
Each of the metrics below is a clickable live link that you can click to get the entire graph which will give you a clear picture of the trends in our local market. Let me know how you like this format, as I am always trying to improve this newsletter and blog to give you the most information possible in the clearest way, so you can make the best decisions about one of the biggest, and most important assets you own.
Number of Active Listings: Significantly Up compared to last month, but still down from last year: 407 active listings in May 2022, up from 307 in April 2022, down from a year ago May 2021 when it was 468.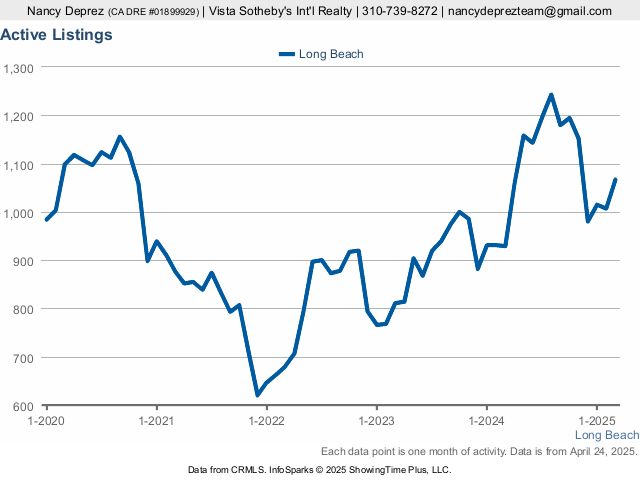 So inventory is rising sharply from earlier this year, but still below historic levels.
Pending Sales: Down from last month, and sharply down from last year's May. Pending sales May 2022 were 185 (though this number may increase as more data comes in), down from 277 in April 2022. Downward trend in Pending Sales – as a result of rising interest rates.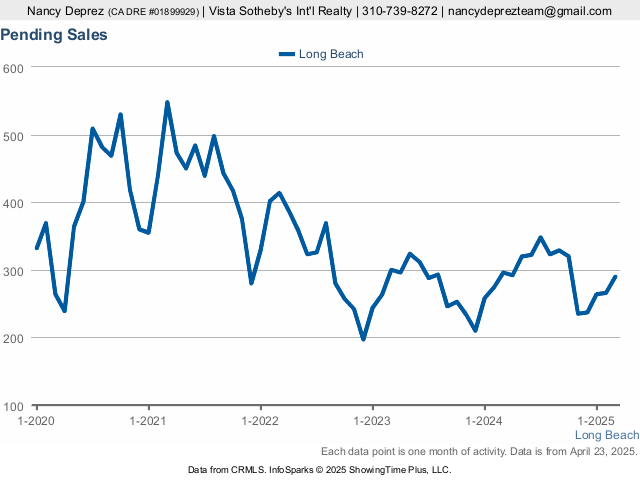 Median Sales Price – Even the median sales price came down in May. Median sales price in Long Beach in May 2022 was $758,000, down from $850,000 in April 2022, but still up from a year ago – $665,000 in May 2021.
An explanation for the price spike in April 2022 would be those who went under contract in February and March before interest rates spiked up were willing to pay more for the house then in order to lock in lower rates.
Average Days on Market for a Listing: Surprisingly, still very low in Long Beach, at 14 days in May, vs 15 days in April 2022.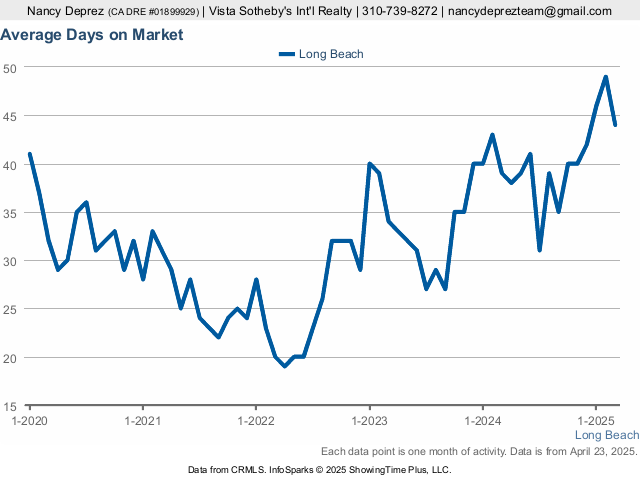 Closing Thoughts
The charts and numbers reflect what we are seeing and feeling in the field. The buyers have pulled back, BUT there are still homes being sold, and there are still buyers looking, and those buyers have the advantage of having more inventory to look at and choose from, and make a sound buying decision. Face it, we are in a huge metropolitan area with a thriving economy, and there will be people needing to move in and out and all around for a variety of reason.
For example, while it feels like fewer people are moving out of California, there still seem to be some who are, and those who are selling their rental properties to cash out or exchange into something else.
And as you can see from the low "days on market," homes are still selling at a brisk rate.
If you have a unique situation you'd like to discuss options for, please feel free to give us a call or email today. My team and I are ready to serve you!