Hi Everyone, here is your Long Beach Market Stats for April 2022. I'm going to now call it the Best Beach Homes Report, after my website name, The Best Beach Homes.
Opening Thoughts
In my last share with you about the March market statistics for our area, Long Beach, California, I warned about the market changing and shifting, which it has, for the reason almost everyone has been hearing about over the news – the rising interest rates, the rising inflation rates, causing buyers to pause, as their cost of borrowing has risen significantly since the beginning of the year.
Are you aware that in January of this year, rates were around 3%, and now rates are around 5%, a full 2% higher in just the last 90-120 days?
What does this look like for the average borrower?
Let's put it into some numbers that are easy to visualize. For example, let's say a couple with 2 incomes together or an individual qualifies for $1,000,000 in purchase price, back in January, early February when they were looking for a house, when rates were 3 to 3.5%.
Now, they only qualify for $800,000. But that same type of house they were looking for now has gone up in price in the last 3 months to $1,100,000.
Can you see how this buyer withdraws from the market? How a chunk of buyers are being squeezed out of the market?
Not surprisingly, this is happening as rates continue to climb. However, supplies of homes on the market remain low. We still have 1 to 2 months of inventory in our area, and until we have 6 months of inventory on the market, we don't have a balanced market. Therefore, we still have what we call a seller's market, and there are still homes my team and I are listing that are getting many, many offers.
Let's take a look at the individual numbers and charts and see what they say.
Charts and numbers
Each of the metrics below is a clickable live link that you can click to get the entire graph which will give you a clear picture of the trends in our local market. Let me know how you like this format, as I am always trying to improve this newsletter and blog to give you the most information possible in the clearest way, so you can make the best decisions about one of the biggest, and most important assets you own.
Number of Active Listings: Trending Up compared to a month ago, but still down from last year: 336 active listings in April,  down from a year ago when it was 436.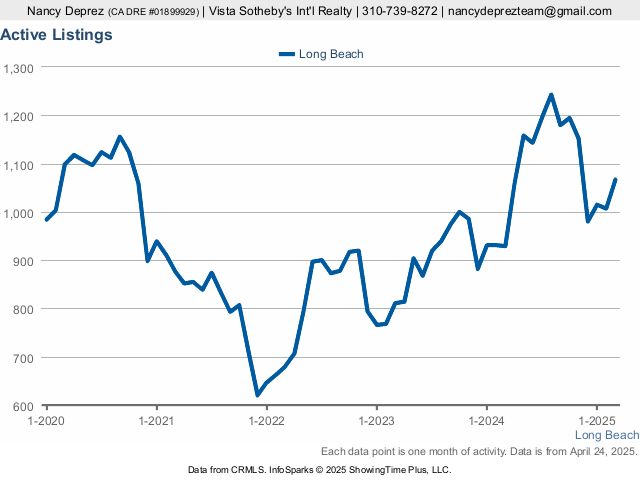 Can you see how Active Listings Inventory in Long Beach is down even more sharply from last year, when last year it was low compared to average levels in Long Beach?
So, yes, it is trending up a bit from last month, due to interest rates rising, but the active listings inventory is still not up very much, and the demand is still gobbling up whatever inventory there is.
Pending Sales: Sharply down from last month, and sharply down from last year's April. Pending sales April 2022 were 212, down from 328 in April 2021. Major downward trend in Pending Sales – as a result of rising rates and low inventory levels.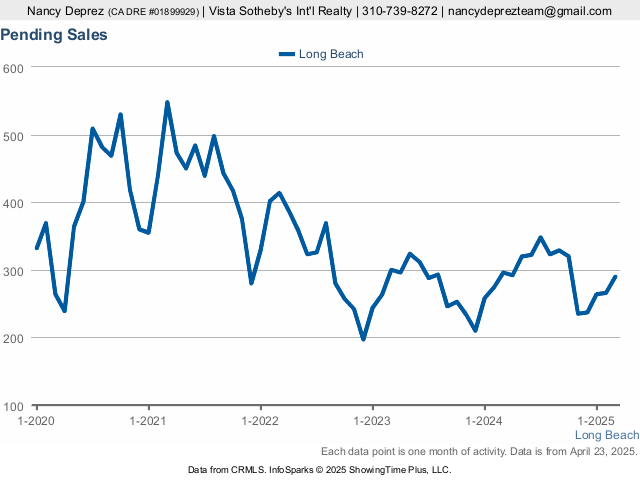 Median Sales Price – way up in April 2022. Median sales price in Long Beach was $850,000, up from $755,000 in March 2022, and up from a year ago in April 2021, when it was $675,000.
Average Days on Market for a Listing: Is still trending down, perhaps surprisingly, at 16 days on average in April vs 17 days in March 2022, and 22 days last April.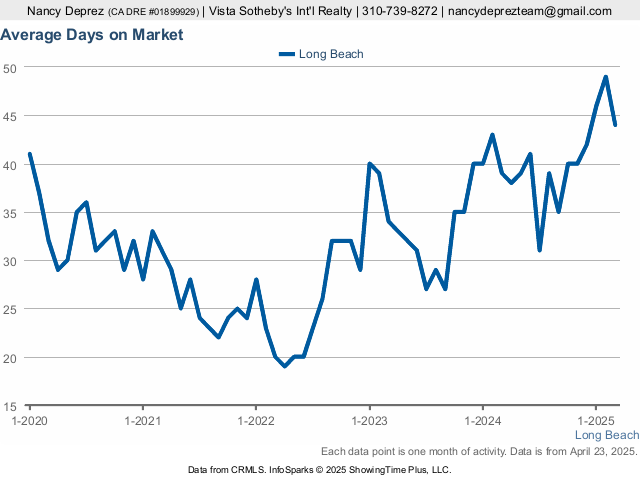 Closing Thoughts
The charts and numbers corroborate what we are seeing and feeling in the field. The buyers are pulling back, so there is less activity in the real estate market, but there is still significant activity, as there are still many buyers and many more than sellers. It is still a seller's market. There is still very low inventory of homes for sale, and this is driving up prices and keeping them high.
My mentor Mike Ferry says that the thing is: there is low inventory in almost all businesses right now, not just real estate. There is a general shortage of many things that people wish to buy. Therefore, it is not unique to real estate. If you are looking to buy a home, there is a way, and we at the Nancy Deprez Team can help you do that. Similarly, if you wish to sell a property, we can create a plan that works exactly for your situation and navigate this unique and shifting market.
Give us a call or email today.